New Jersey bus collideswith semi injuring 6!
September 22, 2009 (NewYorkInjuryNews.com - New Jersey, Truck Accident Law News)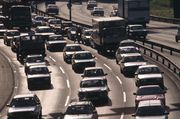 Legal news for New Jersey Truck accident attorneys–Police report semi truck and greyhound bus accident caused non-life threatening injuries to 6 people.
Cranbury, NJ (NewYorkInjuryNews.com) – A bus slammed into a semi truck on the New Jersey Interstate Monday morning closing the highway during morning rush hour, announced the Scarlett Scuttlebutt.
The Greyhound bus was transporting five passengers early Monday morning when the crash occurred. New Jersey State troopers and emergency medical services (EMS) arrived to the scene to transport the wounded to the local hospital.
The driver and the five passengers aboard the Grey hound bus were taken a local medical center to be treated for their minor injuries. The driver of the bus was transported via trauma helicopter to another hospital to be treated by doctors and nurses. The driver's condition is not yet known. The passengers were said to sustain less than life-threatening injuries.
Police said the crash had taken place in the southbound lanes of the turnpike close to exit 8A. Rescue workers had to extricate the bus driver out of the bus before he was flown to a New Jersey hospital. The condition of the semi truck driver was not known. The names of the drivers and passengers involved in the crash have not been released. It was not reported if tickets were issued for this accident. The southbound lanes have since reopened.
Bridget Hom
NewYorkInjuryNews.com
Online New Jersey New York News on Personal injury law