New York Motorcycle Accident Lawyer Bulletin: Saratoga Springs man dies after crash
September 17, 2009 (NewYorkInjuryNews.com - motorcycle accidents, New York City)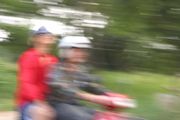 Legal news for New York Motorcycle Accident Attorney–Injured NY Motorcyclist was taken to Albany medical center when he was struck by a car pushed into oncoming traffic.
Saratoga Springs, NY (NewYorkInjuryNews.com) – A man riding a motorcycle suffered serious injuries when he collided with a car Sunday morning, announced the Albany Times Union.
The accident took place on Rowland Street in Milton, a town in Saratoga. The motorcyclist was traveling with his passenger wife heading northbound on the street Sunday morning when a vehicle crashed into his motorcycle at an intersection.
The car that hit the motorcyclist and his wife had yielded to make a left-hand turn onto Adams Road right before the crash when he was suddenly slammed from behind by another vehicle and was launched into the northbound lanes of oncoming traffic.
Police officials and emergency medical services (EMS) arrived at the scene at the intersection where the motorcyclist, identified as 48-year-old Gary Priest, and his wife Lori Priest, sustained injuries in the crash. Paramedics transported the man and the woman via trauma helicopter to the Albany Medical Center Hospital. Lori Priest sustained a fractured leg from the crash and Gary Priest was declared dead the following day after the crash.
The two other vehicles involved in the crash were transported via ambulance to the Saratoga Hospital and discharged that day. Police officials are investigating the fatal accident. There have been no tickets issued as of yet by Police.
Bridget Hom
NewYorkInjuryNews.com
Online motorcycle accidents New York News on Personal injury law